USD Scales of War
The Shadowfell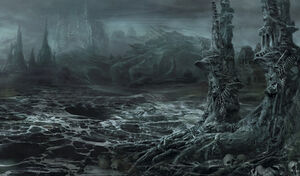 A place of deep shadows, of familiar yet alien landscapes, of vistas that snatch the breath, and of mind-rending visions, the Shadowfell is the gloomy reflection of the natural world. It is a plane dimmed and dulled by a pervasive and insidious pall. The home of the dead, the realm of the forsaken, a haven of the lost and the twisted, the birthplace of wretched creatures famous for their grief and sorrow—the Plane of Shadow is all this and more.
The Shadowfell is the dark echo of the mortal world, a twilight realm that exists "on the other side" of the world and its earthly denizens. Legend has it that an otherworldly dimness arose around the remnants and tatters of the raw stuff of creation. Over time, these shadows coalesced and assumed a form similar to the natural world, but darker, more ominous, and thrumming with a strange and unexpected power. This murky land spawned beings of its own and drew others from different parts of the cosmos. It came to be filled with a diverse population of creatures, fair and foul.
The Shadowfell is more than just a mirror, even as darkly cast and twisted as it is. This plane is the destination of souls loosed from their bodies. It is the domain of the dead, the final stage of the soul's journey before moving onto the unknown. For this reason, the Shadowfell draws the attention of any with an interest in death. The power and allure of this place even drew the Raven Queen from the Astral Sea to take residence among the spirits, to govern them, and to monitor their movements as they await the inexorable pull of dissolution.
Back to Setting Information